Deal activity in Asia-Pacific declined by 27.8% in May 2021
A total of 760 deals (comprising mergers & acquisitions, private equity and venture financing deals) were announced in the Asia-Pacific (APAC) region during May 2021, which is a decline of 27.8% over 1,053 deals announced during the previous month, according to GlobalData, a leading data and analytics company.
An analysis of GlobalData's Financial Deals Database revealed that the deal volume in APAC region during the month also remained below the monthly average level of Q1 2021.
Aurojyoti Bose, Lead Analyst at GlobalData, comments: "The sudden surge in COVID-19 cases in major APAC regions seems to have curbed the deal-making sentiments. Deal activity declined in most of the key APAC markets in May compared to the previous month."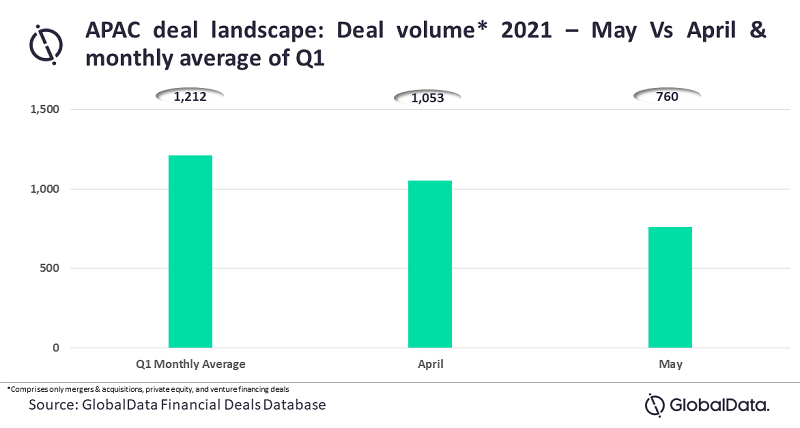 China, India, Japan, Australia, South Korea, Singapore, Malaysia and Hong Kong witnessed decline in dealAnalyst by 52.3%, 8%, 30.3%, 4.1%, 25.3%, 27.4%, 43.8% and 10.5%, respectively while markets such as Indonesia and the Philippines witnessed 10% and 16.7% growth in deal volume, correspondingly.
Key deal types such as venture financing and merger & acquisitions (M&A) also witnessed decline in deal volume in May compared to the previous month. The number of  venture financing and M&A deals declined by 34.8% and 22.9%, respectively while private equity deals volume managed to witness 18.4% growth.