Card payments in Philippines set to grow by 11.6% in 2022
The card payments market in the Philippines, which was affected by the COVID-19 pandemic, is on the recovery path supported by the economic revival and rise in consumer spending. As a result, it is expected to register a strong growth of 11.6% in 2022 to reach PHP2.2 trillion ($44.0bn), forecasts GlobalData, a leading data and analytics company.
The COVID-19 adversely affected most global economies and the Philippines was no exception. The economic uncertainty caused by the pandemic forced consumers to cut down on spending, which affected card payments market, especially credit and charge cards.
According to GlobalData's Payment Cards Analytics, the value of credit and charge payments declined by 16.2% in 2020 while debit card registered a slow growth of 3.6%.
Government's timely measures to control the pandemic and the pace of vaccination helped reopening of businesses quickly. This will support card payment recovery, which is forecast grow at a compound annual growth rate (CAGR) of 9.1% between 2021 and 2025 to reach PHP2.9 trillion ($56.0bn) in 2025.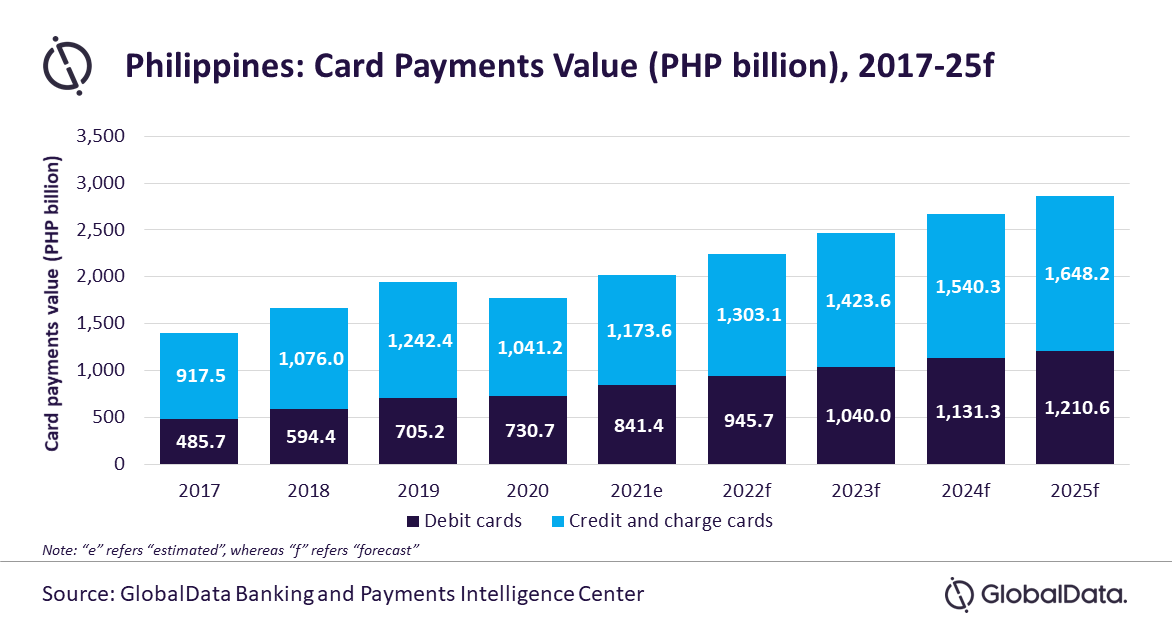 Kartik Challa, Payments Senior Analyst at GlobalData, comments: "While cash remains the most preferred method of payment in the Philippines, the use of payment cards has grown rapidly during the past few years, supported by increasing financial awareness and banks efforts to promote electronic payments."
With the COVID-19 restrictions now eased and economy recovering, card payments are expected to grow at a fast pace.
GlobalData's Payment Cards Analytics reveals that debit card payment value is set to register 12.4% growth in 2022 while credit and charge card payment value will grow by 11.0% during the same period.
The central bank's recent regulation to reduce interest rate on credit card will further support credit card usage. Effective from November 2020, the regulation capped interest rate on credit cards at 2% per month, or 24% annually, compared to previous rate of 42%.
Challa concludes: "The payments card market in the Philippines registered healthy growth in the past few years. Although it was affected by the pandemic, the market rebounded and is anticipated to continue its uptrend, supported by the revival in economic conditions, improving payments infrastructure and government initiatives."