list of top 20 fintech influencers in Q2 2021 to follow on Twitter
Fintech adoption was already on the rise prior to the COVID-19 pandemic. However, the uncertainty related to the pandemic accelerated shift towards digital financial life and it became an indispensable part of daily life. Against this backdrop, GlobalData, a leading data and analytics company, has ranked the top fintech influencers during the second quarter (Q2) of 2021, based on their performance and engagement on Twitter.
GlobalData's Fintech Influencer Platform, which tracks top 500 fintech experts and their discussions pertaining to the emerging trends, topics, innovations and companies etc around fintech, revealed Spiros Margaris, Founder of Margaris Ventures, as the top influencer during Q2 2021. Margaris is also a venture capitalist and advisory board member at GENTWO AG. Margaris largely shares updates on fintech, blockchain and AI on Twitter.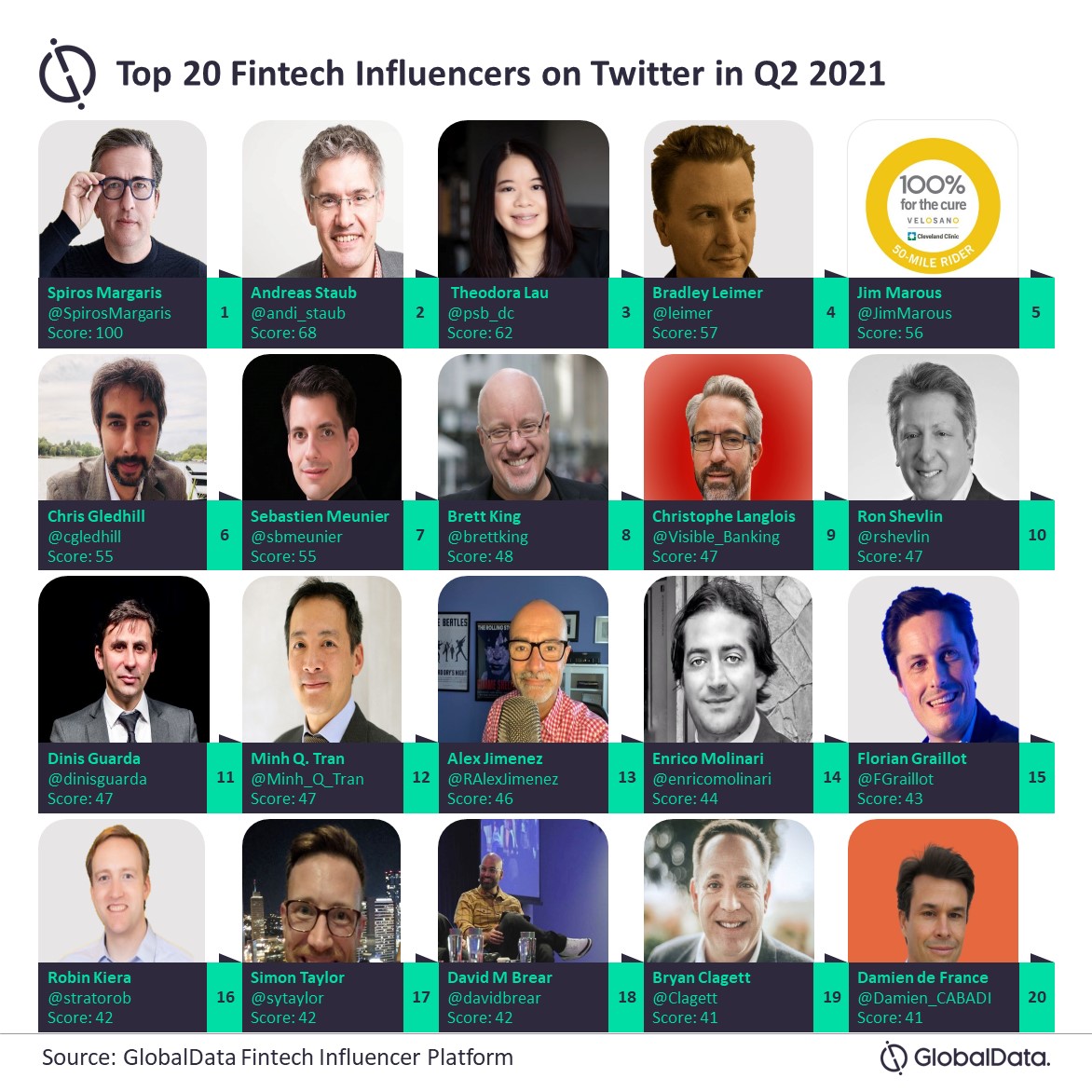 Andreas Staub, with an influencer score of 68, emerged as the second top influencer in Q2 2021. Staub is the Head of Corporate Development and Digital Transformation at Raiffeisen Group in Switzerland. His areas of interest and posts on Twitter include fintech innovation, behavioral economics, insurtech, bigdata and AI.
Theodora Lau emerged as the next top influencer among the fintech experts with an influencer score of 62. Lau is the Founder of Unconventional Ventures and Book Author at Kogan Page. Her focus is on developing and growing an ecosystem of financial institutions, venture capitalists, startups, corporations, and entrepreneurs.
Smitarani Tripathy, Influencer Analyst at GlobalData, comments: "The newly emerged keywords and hashtags in Q2 2021 included 'SDGs', 'Unicorn', 'Serverless', 'Govtech', '#Esg", and '#Cbdc'. By following the top fintech influencers, which represent not only fintech experts, but also academia, technologist and economist, one can track the beat of the industry on a regular basis, ultimately leading to a better-informed decision-making in different fields of fintech."