M&A in Singapore life insurance industry to further consolidate position of top 10 insurers in 2021
Singapore life insurance industry is highly concentrated with the top 10 insurers accounting for 95% market share in 2020. Boost in demand for life insurance products, and mergers and acquisitions (M&A) will further consolidate the country's life insurance industry in 2021, finds GlobalData, a leading data and analytics company.
Swarup Kumar Sahoo, Senior Insurance Analyst at GlobalData, comments: "The top 10 insurers have increased their combined market share from 88% in 2017 to 95% in 2020. Merger of Singapore Life with Aviva in November 2020 and the announced acquisition of AXA Singapore by HSBC will result in additional stability of the market in 2021. This will leave 11 insurers competing for the remaining market share."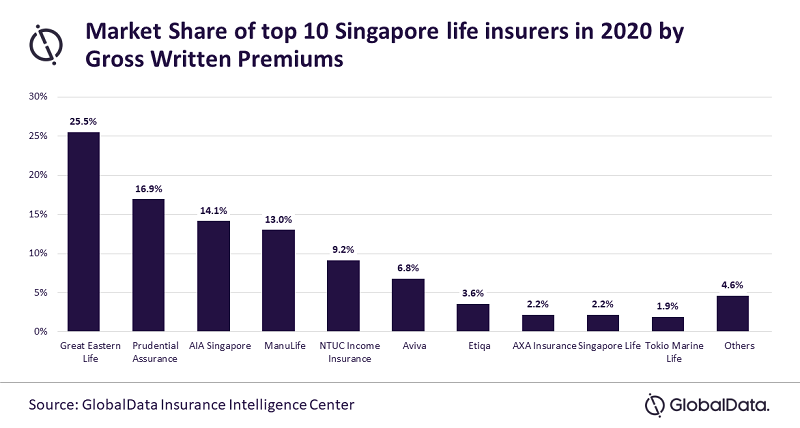 Mr. Sahoo continues: "The merger of Singapore Life with Aviva will increase the market share of the combined entity to 9.0% in 2021. Similarly, the acquisition of AXA Insurance by HSBC will increase the market share of the combined entity to 3.6% and improve HSBC's ranking from the 11th largest life insurer in 2020 to 7th largest insurer in 2021."
An analysis of GlobalData's Insurance Intelligence Center reveals that the ranking of top five life insurers in Singapore remained unchanged since 2016 with the Great Eastern Life and Prudential Assurance being the top two insurers in 2020.
Great Eastern Life is the largest player with 25.5% market share in 2020. It was the only insurer among the top five life insurers to register growth in market share which increased from 21.2% in 2019 to 25.5% in 2020. Its gross written premiums (GWP) grew by 42% in 2020 after facing a decline of 7% and 9% in 2018 and 2019, respectively.
Prudential Assurance is the second largest insurer with 16.9% market share in 2020. The company's market share declined from 18.6% in 2019 to 16.9% in 2020. However, in terms of GWP, the company registered a higher growth of 8% in 2020, as compared to 7% growth in 2019. 
Mr. Sahoo concludes: "Large customer base, diversity in products and economies of scale will help the leading insurers retain their market share in 2021. Decreasing profitability due to market consolidation may prompt the smaller insurers to increase premium rate in the short term."