Philippines card payment market to grow by 15.4% in 2021
The card payments market in the Philippines is set to grow by 15.4% in 2021 due to the gradual revival of economy, easing of lockdown restrictions, and improving consumer spending, says GlobalData, a leading data and analytics company.
According to GlobalData's Payment Cards Analytics, card payments in the Philippines will grow by 15.4% in 2021 to be valued at PHP2.1 trillion (US$43.4bn). It is forecasted to register a compound annual growth rate (CAGR) of 12.3% between 2020 and 2024 to reach PHP2,872.5bn (US$59.8bn) in 2024.
Nikhil Reddy, Senior Payments Analyst at GlobalData, comments: "The Philippines is among the worst affected countries by the COVID-19 pandemic, with the economy falling into recession. The market scenario is now changing with the opening of businesses and vaccine distribution gaining pace. Gradual revival in economic conditions are expected to drive growth in the country's card market."
According to the Philippines Statistics Authority, the country's GDP contracted by 9.5% in 2020. With the opening of businesses and easing of lockdown restrictions, the economy is expected to revive in 2021 with expected GDP growth rate between 6.5%-7.5%.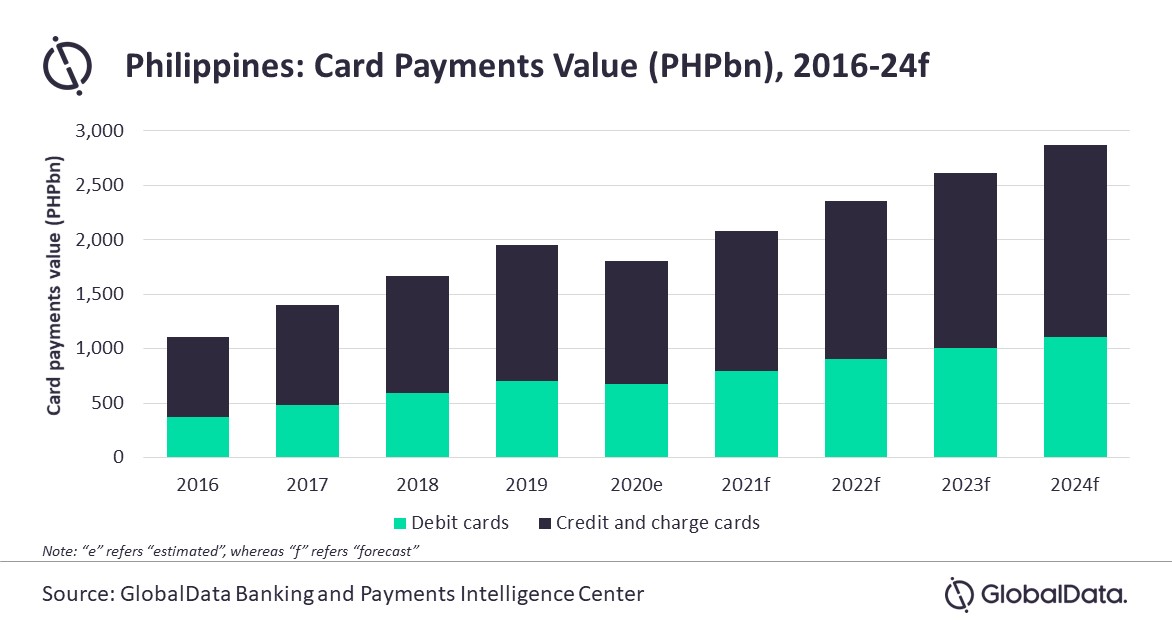 Debit card dominates the overall card holding in the Philippines with 90.6 million debit cards in circulation compared to 8.6 million for credit and charge cards. However, credit and charge cards are the preferred payments method accounting for nearly two-thirds of card payments by value. This is mainly due to pricing benefits, instalment payment plans, and reward programs available on these cards. While credit and charge market was adversely affected due to the pandemic, it is expected to rebound with rise in consumer spending.
The government has also taken various initiatives to increase card usage in the country.  In September 2020, it passed a regulation capping credit card interest at 2% per month, effective from 3 November 2020, compared to the existing average annual rate of 42%. It also capped the interest on credit card instalment plans at 1% per month.
The new regulation is aimed to make credit card interest rate at par with peers such as Thailand and Malaysia, and also ease debt burden on credit card holders during COVID-19 crisis. Lowering of interest rate will make borrowing cheaper, thereby making purchases on credit more affordable.
Amid the COVID-19 pandemic, demand for contactless payments has surged significantly, which will support growth in card transactions. All major banks now offer contactless credit cards. Mastercard has increased limit for contactless payment from PHP2000 (US$39.44) to PHP5000 (US$98.60), from 17 July 2020 to drive contactless payments.
Mr Reddy concludes: "The Filipino card payments market, which witnessed robust growth, has been affected by the economic downturn due to COVID-19 pandemic. However, government initiatives, growing popularity of contactless payment and rise in consumer spending will drive recovery in card payments in 2021."