Card payments in Hong Kong to rise by 6.1% in 2022
The Hong Kong card payments market is still reeling under the impact of the COVID-19 pandemic. Subsequently, the value of card payments in the country registered a huge decline of 14.7% in 2020 due to the decline in consumer spending. However, the market is expected to revive this year and register a 6.1% growth in 2022, forecasts GlobalData, a leading data and analytics company.
According to GlobalData's Payment Cards Analytics, the gradual reopening of businesses and easing of travel restrictions are expected revive the market in 2021 and it will witness growth in 2022.
Kartik Challa, Payments Senior Analyst at GlobalData, comments: "The payment card market in Hong Kong is mature with high card penetration and a high annual spending per card, driven by its robust payment infrastructure. Despite this, the card payments market declined in the past two years due to the global trade war followed by Hong Kong protests (anti-extradition law movement), which affected the country's economy. This was further worsened by the COVID-19 crisis."
GlobalData forecasts card payments in the country to grow at a compound annual growth rate (CAGR) of 5.2% to reach HK$1,086.9bn (US$140.2bn) in 2025.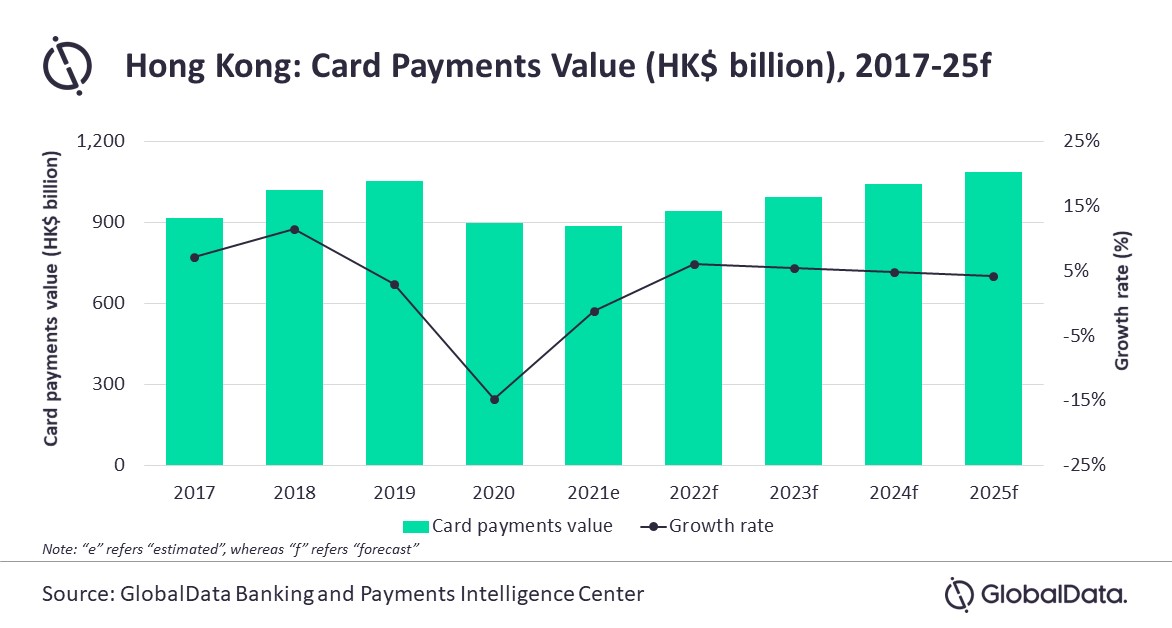 Credit and charge cards are the most preferred card types for payments in Hong Kong, primarily due to the reward benefits offered on these cards and their wider merchant acceptance. They account for 63.9% of all card payments by value in 2021 while debit cards account for the remaining 36.1% share.
However, credit and charge cards transactions were hit during the crisis, registering a decline of 16.9% in 2020 compared to 10% decline in debit cards. Lockdown and travel restrictions affected consumer spending on airline tickets, hotels, restaurants, and transportation resulting in declining card usage. With COVID-19 restrictions now being eased and consumer spending on rise, card payments are expected to witness growth from 2022.
Mr Challa concludes: "Hong Kong's card payments market, which witnessed robust growth over the years, has been affected by the economic downturn due to the COVID-19 pandemic. However, improving consumer spending and economic recovery will support recovery in card payments."